Event
Your current location:Home > News > Event > Ding Zuohong...
Ding Zuohong:Bay Area is our future
2018-10-27 14:31:21 Views:
Yuexing Group - a Shanghai-based furniture manufacturer - is banking on the much-touted Guangdong-Hong Kong-Macao Greater Bay Area for greater business opportunities.
"I've been very excited over the development plan for the Bay Area, and I've a strong feeling there'll be a lot of great things for Yuexing to do (in the region)," Ding Zuohong, chairman of Yuexing Group, told a China Daily Asia Leadership Roundtable panel discussion held as part of the seventh Global Tourism Economy Forum in Macao on Wednesday.
He said Yuexing was founded 26 years ago as a small furniture workshop and, today, it has grown into a large enterprise employing some 10,000 people and owning more than 150 furniture plaza-chains across the Chinese mainland.
Still, the group has yet to make its footprint in the Bay Area.
"We've a lot of friends and great business partners in the Bay Area, and we're definitely expanding our business here in future," said Ding.
Apart from producing and selling furniture, Yuexing is also engaged in the construction and operation of large commercial complexes and commercial real-estate projects incorporating plenty of leisure-and-cultural elements.
The opening of the mega Hong Kong-Zhuhai-Macao Bridge, as well as the development of the Bay Area, will provide a big boost to the region's culture-and-tourism industry, and Yuexing believes it'll ride on these opportunities, taking its business model from its base camp - the Yangtze River Delta Region - to the Bay Area.
Ding said Yuexing now sees itself not just as a furniture manufacturer, but a "supplier of the good life", and travel is certainly an important part of the good life.
Thus, the company is actively looking for good projects in the Bay Area to invest in, and is seeking "fast development" in the area.
"We always talk about synergies, we say that one plus one equals three, for the Bay Area. It's now Guangdong plus Hong Kong, plus Macao, I would say it's one plus one plus one equals 10. The synergy will be so great it will bring historic opportunities to everyone of us."
Ding recalled that when he founded Yuexing nearly three decades ago, he was convinced he would owe his success to China's reform and opening-up.
"Without our country's reform and opening-up 40 years ago, I would not have been able to achieve any of this as an entrepreneur. I'm from the grassroots, I used to be a carpenter, and I owe my very success to the nation's reform and opening-up."
He hopes China will continue its reform policies and be even more open in future, so that more companies like Yuexing will go abroad to enable the world to better understand China.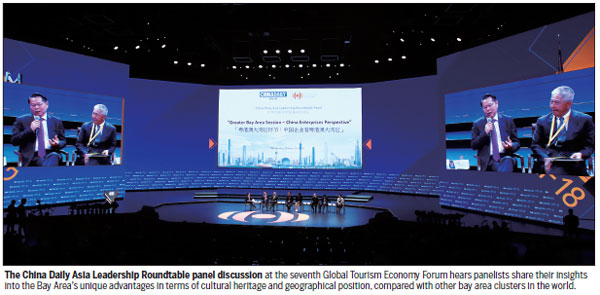 Related News
Back to list